TimeZone.com | TZTool Shop Home | Shop On-Line
Order Form | About Tool Shop | Contact Us
Seiko Tools & Supplies
Seiko Snap-Back Case Opener
| | | |
| --- | --- | --- |
|   | This Japanese copy of a very expensive German unit is just as good and is the finest available tool for opening snap-back cases with precision and complete control. The watch is mounted between the fully-adjustable pins and can be perfectly aligned with the blade by moving the base and locking it in position. The blade (mounted on a finely-screwed shaft) is then slowly fed between the case and back. This is a remarkable device that will pay for itself with one unscratched case back. I almost never open a snap-back case any other way these days. An extra bit is supplied and is mounted in the pin base. If you want to make the unit even better, give the bit a high polish on your buffing wheel. |   |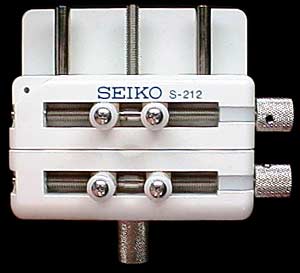 Seiko Case Holder S-212
Seiko Case Holder S-212
| | | |
| --- | --- | --- |
| | For use when opening screw back cases. Rubber suction base hold firm and is ideal for desk/counter top use. | |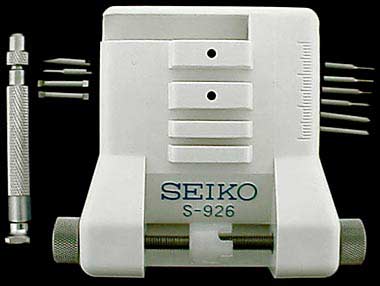 Seiko Bracelet Tool S-926
$149.95
Seiko Bracelet Tool S-926
| | | |
| --- | --- | --- |
| | Replacement bits are available from stock and will be added to the site soon. | |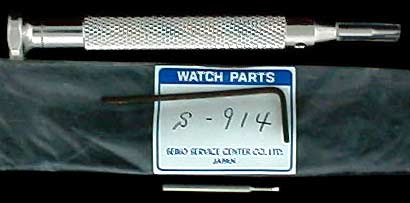 Seiko S-914 Bracelet Adjusting Screwdriver
$27.60
S-914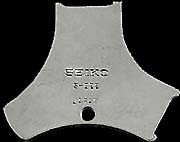 Seiko Key S-822
$16.95
Seiko Key S-822
Battery hatch opener.

This is not for opening the back of cases. Use when back of case has a built in hatch that is for battery removal. Battery hatches are mostly found on older quartz watches.


Geniune Seiko Divers Band 22 mm
$28.00
BAND-SKDIVER
The genuine Seiko Divers Band with a retail price from $38.00 to $48.00, this band will last for many years under normal use. This band does not come with springbars.





K-40 Fits Seiko and Pulsar PROFESSIONAL DIVER 22mm
$6.32
RBK-40
This is an imitation strap to fit Seiko Divers Watches.



Type in any keywords of a description or a name below to find a product.
If you have questions please call me at 510 599 4890. For those outside the USA the country code is 1.
Thanks, Bob Frei
Contact Us

Security/Privacy/Return Policy

United States
510.832.0355 EXT. 2
800.900.3734 (fax)

International
510.832.0355 EXT. 2
510.834.6217 (fax)