TimeZone.com | TZTool Shop Home | Shop On-Line
Order Form | About Tool Shop | Contact Us
Demagnetizers
Visit us on YouTube!
To see Video on using a Demagnetizer and a Magnetizer
Please Click Below to see the Video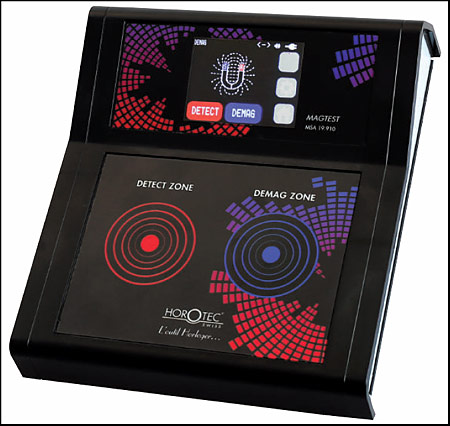 Horotec Magtest 19.910
Horotec Magtest is an electronic device for detecting magnetism, demagnetization and control of magnetic remanence of watches, movements, watchmaking tools, and parts. It combines the measurement function with the demagnetization function in a single device. Items are placed on the Detect Zone to detect magnetism and results are displayed on the LCD touch screen. Items are then moved to the Demag Zone to commence demagnetizing.

There are 5 sensors and one of them is located in the center of the detection zone. The others are located on the corners of a 1.5 cm square. They can measure the force of magnetism and the position. A dot on the LCD screen shows a sensor with its position and the dot size is proportional to the magnetic force. If the LCD screen displays the presence of magnetism without any magnetic objects on the surface of detection, it is recommended to make a manual zero setting by pushing the off button. Power adapter can take voltages ranging from 100 to 240 volts.
MSA 19.910
$519.00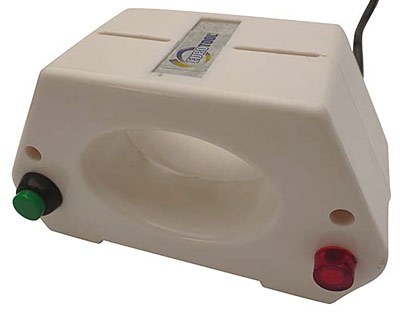 High Amperage Pass Through Demagnetizer
| | | |
| --- | --- | --- |
| | The unit has superior field strength due to the relatively high amperage that it draws. The consequence is fairly rapid heating of the field coil. It is recommended that a single duty cycle be limited to 5 seconds on and 3 minutes off, or three 5 seconds cycles on and 10 minutes off. This unit is wired with a thermal protector. If the above duty cycles are not observed, the thermostat may open and the unit will not operate until it has cooled sufficiently. Features a 1 1/2" X 3" opening. | |
FB-122
$84.95

Type in any keywords of a description or a name below to find a product.
If you have questions please call me at 510 599 4890. For those outside the USA the country code is 1.
Thanks, Bob Frei
Contact Us

Security/Privacy/Return Policy

United States
510.832.0355 EXT. 2
800.900.3734 (fax)

International
510.832.0355 EXT. 2
510.834.6217 (fax)