TimeZone.com | TZTool Shop Home | Shop On-Line
Order Form | About Tool Shop | Contact Us
Demagnetizers
Visit us on YouTube!
To see Video on using a Demagnetizer and a Magnetizer
Please Click Below to see the Video
Inexpensive Demagnetizer for Tweezers and Parts
 
The Etic, instantaneous (capacitance) demagnetizer is relatively powerful and compact. Use it to demagnetize watch parts, and tools. This unit may require a few operations to completely demagnetize larger tools or parts. If you can spend a little more, look at # FB-119 for a more powerful demagnetizer.

Use it to demagnetize samll parts and tweezers. You may need to push the button and rotate the item a few times. Always unplug and disconnect the unit from the main power supply, when not in use. Works, with both 110 volts and 220 volts.

 
Top-Quality Demagnetizer for Watches and Parts
| | | |
| --- | --- | --- |
|   | This instantaneous demagnetizer works completely on tools, watches, and watch hole in the front allows the insertion of tweezers, screw drivers, and other long, thin tools. I use one constantly, parts instantaneously with the push of the buttom. The and routinely demagnetize a watch when I put it on in the morning. Can't hurt, right? This capacitance unit won't overheat like coil units and is much more convenient to use. 115 volts 50-60 cycles. |   |
FB-119
$339.00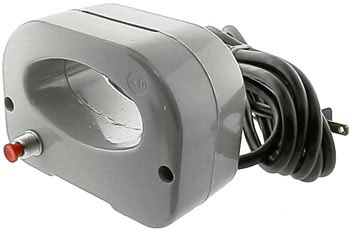 High Amperage Pass Through Demagnetizer
| | | |
| --- | --- | --- |
| | The unit has superior field strength due to the relatively high amperage that it draws. The consequence is fairly rapid heating of the field coil. It is recommended that a single duty cycle be limited to 5 seconds on and 3 minutes off, or three 5 seconds cycles on and 10 minutes off. This unit is wired with a thermal protector. If the above duty cycles are not observed, the thermostat may open and the unit will not operate until it has cooled sufficiently. Features a 1 1/2" X 3" opening. | |
FB-122
$84.95

Type in any keywords of a description or a name below to find a product.
If you have questions please call me at 510 599 4890. For those outside the USA the country code is 1.
Thanks, Bob Frei
Contact Us

Security/Privacy/Return Policy

United States
510.832.0355 EXT. 2
800.900.3734 (fax)

International
510.832.0355 EXT. 2
510.834.6217 (fax)