TimeZone.com | TZTool Shop Home | Shop On-Line
Order Form | About Tool Shop | Contact Us
Books on Watch and Clock Repair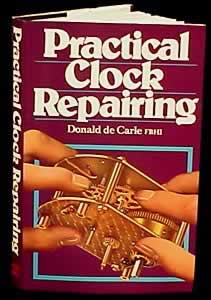 Practical Clock Repair
| | | |
| --- | --- | --- |
| | This book contains 400 illustrations, this is a must have item for the expert and beginner. | |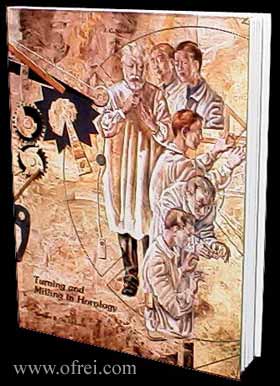 Turning and Milling in Horlogy
| | | |
| --- | --- | --- |
| | This is a 60 page book, with several examples and illustrations along with detailed instructions for the use of Bergeon-Technoli cutters # 7810 and for gear cutters #6375 and #6376. With J. CI. Nicolet, a master clockmaker as its author the examples are mostly clock parts, while a watch escape wheel does get some acknowledgment. | |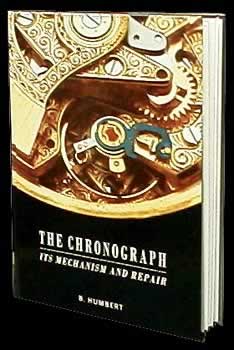 The Chronograph, Its Mechanism And Repair
| | | |
| --- | --- | --- |
| | Written for craftsmen by a craftman, 1 volume, 166 pages, 295 plates and drawings. Size 21 x 27 cm. | |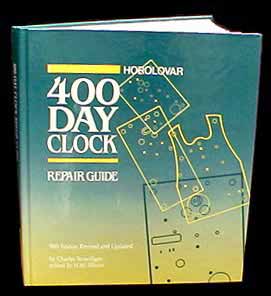 400 Day Clock Repair Guide
| | | |
| --- | --- | --- |
| | The guide book on "How to Select" Suspension units and springs for most makes of 400 day clocks. Contains hundreds of illustrations of back plates used to select springs in alphabetical order. Every clock repair person who orders these springs and units by mail/phone order must have one of these books. There is no other way to order the correct spring other then matching the back plate you have to the drawings of back plates shown in this book. This is the most current edition, which I believe is the 11th. | |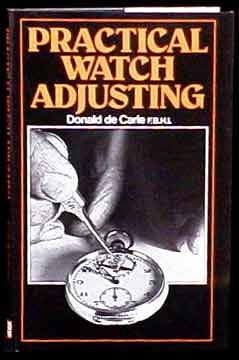 Practical Watch Adjusting by Donald de Carle F.B.H.I
| | | |
| --- | --- | --- |
| | Contenets include: Condition of the Movement - Cleaning and Oiling - Balance Pivots - Fitting a Balance Spring - Fitting a Breguet Balance Spring - Positional Timing - Observing the Point of Attachment _ General Notes on Springing and Timing - Other Methods of Positional Adjustments - Working with Timing Machines - Nearly 200 Illustrations. First edition was published in 1964 as a serial in Goldsmith Journal. This is a Hardcover book reprinted in 1999. ISBN 0 7198 0051 1 | |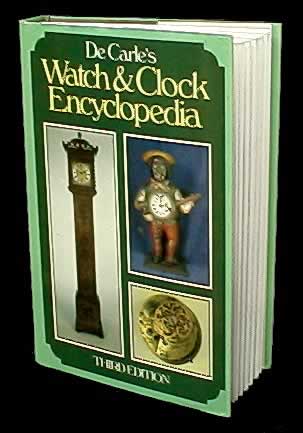 Watch & Clock Encyclopedia
This book of 329 pages is filled with the facts, knowledge and information that an expert needs to refer to at times. Donald De Carle has done it once again, this is a classic and it deserves to be in your library.

Now back in stock and ready to ship!
Type in any keywords of a description or a name below to find a product.
If you have questions please call me at 510 599 4890. For those outside the USA the country code is 1.
Thanks, Bob Frei
Contact Us

Security/Privacy/Return Policy

United States
510.832.0355 EXT. 2
800.900.3734 (fax)

International
510.832.0355 EXT. 2
510.834.6217 (fax)
Minimum Order $15.00 Before Shipping Charges