TimeZone.com | TZTool Shop Home | Shop On-Line
Order Form | About Tool Shop | Contact Us

Case Style #4 Fits ETA 2801-2, 2804-2 and the 2824-2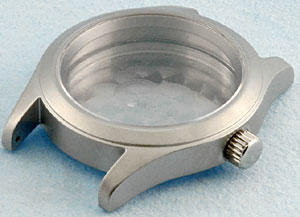 Case Style #4 with Mineral Glass and Screwdown Crown Designed to Fit ETA 2824-2
100% Stainless Steel Case
Made To Fit ETA 2824-2 Movements
With Screwdown Crown

Fantastic 3ATM water-resistant, 100 percent stainless steel brushed finished case with super strong mineral glass crystal and screwdown crown. Case diameter is 35.3 mm, case height is 9.82 mm, crown diameter is 5.5 mm, and watch band lug size is 18 mm. Choose from the dials we have, which can be used for ETA 2804-2 and ETA 2824-2. This case can use dials diameter 28.0 to 28.7 mm. Dial opening is 26 mm.


SCREWDOWN CROWN CASE with Screw Back Water-Resistant 3 ATM Case.
Type in any keywords of a description or a name below to find a product.
If you have questions please call me at 510 599 4890. For those outside the USA the country code is 1.
Thanks, Bob Frei
Contact Us

Security/Privacy/Return Policy

United States
510.832.0355 EXT. 2
800.900.3734 (fax)

International
510.832.0355 EXT. 2
510.834.6217 (fax)