Ultra-Violet Lamp
| | | |
| --- | --- | --- |
| | Designed for use with UV sensitive cement, this lamp is designed to shield your eyes during use. | |
GS Crystal Cement
| | | |
| --- | --- | --- |
|   | This cement is intended to work with both plastic and glass crystals, and comes with a pin-point applicator. |   |
Epoxy 330
| | | |
| --- | --- | --- |
|   | This fast setting, clear epoxy is useful for setting watch crystals. |   |
Sternkreuz Nr. 98 Die Set
| | | |
| --- | --- | --- |
|   | For use with the QuickPress 800 and other presses with standard thread, these German-made dies are precisely machined in aluminum. Dies from 17.5 - 46 mm are included, with four special plastic dies for mineral glass and formed (shaped) crystals. This magnificent set of dies properly supports and engages all parts without damage. When using hard dies on a watch, a sheet of polyethylene should be placed between the watch and the die. |   |
Horotec Rack Press With Screw Control, Boxed Set w/43 Dies
If you like to use nylon dies and want a first class press then you should buy this model. The lever on the MSA06.150 places the dies in close position, then you lock it in place and screw the knob to slowly lower the dies. For installing crystal and closing case back. This is a great tool!

The complete kit comes with the press MSA06.150 which uses the new Horotec Delrim dies with threaded metal centers which screw on the press, 4 sets of dies numbers MSA 06.522, MSA06.521, MSA06.520 and MSA07.106.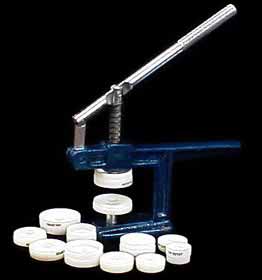 Economy Case Press With 12 Nylon Dies
| | | |
| --- | --- | --- |
| | Some people report good results with this press for closing case backs. Many start with this low cost product and later move up to one of the better closers or crystal presses. This is a strange product that some people love and others hate. Some say it works about 80% of the time, while we have one customer who has high school students change 2,500 batteries a month and he loves this product even if he might have to buy a new press or repair the handle once each year. I say if you can afford a better tool you should buy a better tool. | |
Bergeon Crystal Lift
| | | |
| --- | --- | --- |
|   | This Bergeon crystal lift is used for removing and installing any "unbreakable" (acrylic) crystal without tensioning ring. This is a very good price on a well-made and useful tool. |   |
PolyWatch Crystal Polish Two Tubes
| | | |
| --- | --- | --- |
| | Removes scrathes from plastic watch crystals. Apply a small amount and polish with a cotton cloth. Two tubes for the price of one, with a suggested retail of $6.95 to $9.95 per tube. | |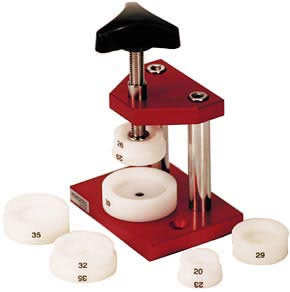 Horotec Screw Type Case Closer
| | | |
| --- | --- | --- |
| | Strong & Safe, Swiss screw-type case closer with nylon dies. | |
Crystal Cement, Ultra-Violet Activated
| | | |
| --- | --- | --- |
| | This cement hardens when exposed to a UV light source. Usable on crystals designed to be cemented into the bezel (rather than with a pressure gasket, etc.). | |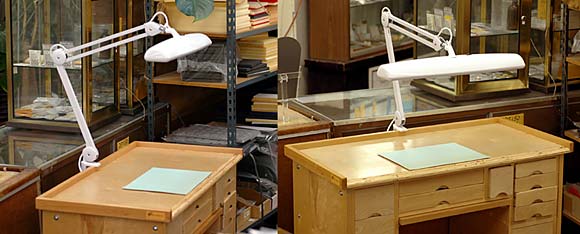 High Power Energy Efficient Fluorescent Desk Lamp
Every Watchmaker's work bench should have one of this lamp. It gives more than enough light to cover your benches surface.

It uses three T5 14W fluorescent light bulbs, comes with electronic ballast and On/Off switch. The dimension of the piece are 91cm (35.8 inches) arm length, 61cm (24 inches) head length, and 11cm (4.3 inches) head width. The color is white and uses 110V/60Hz voltage.
Miniature Economy Case Press With 6 Nylon Dies
| | | |
| --- | --- | --- |
| | This is the miniature version of the Economy Case Press CRY905.00. Comes with 6 dies: 14 mm, 20 mm, 24 mm, 32 mm, 36 mm, and 37 mm. Weighing in at about 1 lb and standing about 3 1/2" high. Don't let the size fool you. This tool might not have the same amount of power as big brother to handle large size case, but handles itself pretty well against smaller size cases. | |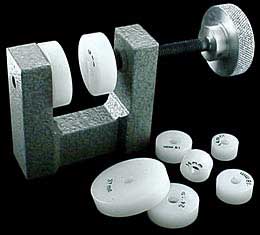 U-Shaped Screw Press For Closing Case Backs
Use on a table top or hold in your hands, when closing case backs. We found out why this closer was so popular with certain customers. It is possible to close case back with tool without removing metal bracelets, which saves time.


Change batteries without removing metal bracelets.

Made in India.