TimeZone.com | TZTool Shop Home | Shop On-Line
Order Form | About Tool Shop | Contact Us

Movements - 2
Most movement are new never used. Certain models such as the some of the Longines and Wittnauers, which were purchased when the New York office was closed, may be reconditioned and best used for practice and parts.
Link To TZ Watch School Parts Page
Miscellaneous Watch Parts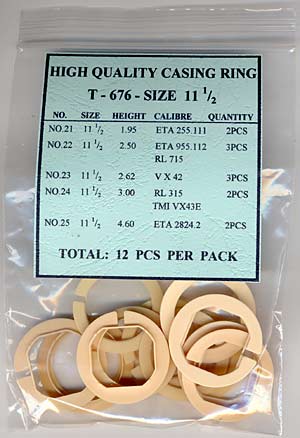 Plastic Movement Holders For Re-Casing 11 1/2 Ligne Movements
| | | |
| --- | --- | --- |
| | Movement ring assortment for re-casing popular 11 1/2 ligne Quartz and Mechanical Movements. Kit Includes 2 pieces movement ring for ETA 2824-2 11 1/2 movement with ring height of 4.60 mm. This assortment also includes ring for ETA 255.111, ETA 955.112, Ronda 7215, VX 42, Ronda 315, VX 43E for a total of 12 pieces. | |
ETA 6497-1 Watch Movement
ETA, the main watch movement maker in Switzerland, is the owner of the Unitas name and made the Unitas 6497 and 6498 for years. This is the new re-designed ETA stamped 6497-1, version. This 16.5 ligne pocket watch movement, 17 jewels and Incabloc shock protection is a workhorse movement and is sure to be produced for many decades to come. ETA 6497-1 is a Pocket Watch Movement, which means the crown is at 12 and the subsidiary (small) seconds at 6 o'clock. This same movement can now be found in large wrist watches and when used as a wristwatch the crown is now at the 3 PM position and the small second can now be found at 9 PM.




Because of its size, this is a comfortable movement for the beginning watchmaker. Hand hole sizes 1.15 mm minute, 2.00 hour and 0.27 mm will work for second.
Type in any keywords of a description or a name below to find a product.
If you have questions please call me at 510 599 4890. For those outside the USA the country code is 1.
Thanks, Bob Frei
Contact Us

Security/Privacy/Return Policy

United States
510.832.0355 EXT. 2
800.900.3734 (fax)

International
510.832.0355 EXT. 2
510.834.6217 (fax)