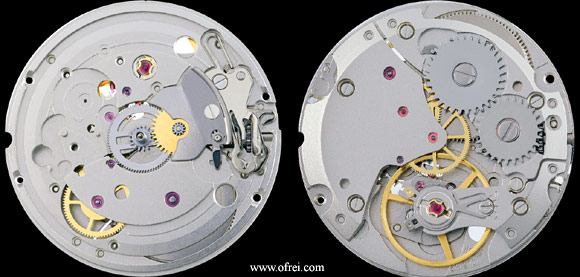 Sellita Swiss Made SW210-1 Incabloc 19 Jewels Watch Movement
| | | |
| --- | --- | --- |
| | The Sellita SW210-1 is an improved clone version of the obsolete ETA 2801-2 movement. This manual wind watch 11.5 ligne movement, features 19 jewels and Incabloc shock system complete with a balance hack (stop lever). Most parts are interchangeable with the ETA 2801-2. Hand sizes Minute 0.90 mm, Hour 1.50 mm and sweep 0.25 mm. 28,800 BPH, lift angle of balance 50. See the link to the page TZWS Info, Parts & More for the page "Parts for ETA 2801-2, 2804-2, 2824-2, 2836-2 and 2846" | |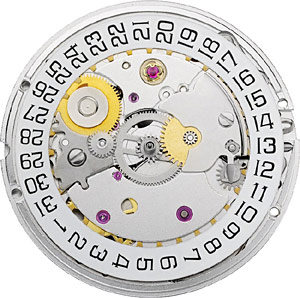 SELLITA SW200-1 Nickel Plated Swiss Made Clone of 2824-2 w/ Elaborate Escapement & Incabloc Shock
These standard finish nickel plated 26 jewels, 11.5 ligne movements with the Sellita elaborate escapement system with #1 quality pallet fork, escape wheel and deluxe Incabloc shock protection. The SW200-1 is an automatic, sweep seconds, day and date at 3 o'clock. Hand sizes 90/150/25, 28,800 BPH. Sellita movements are Swiss Made, the SW200, is a clone of the ETA 2824-2 which is possible to do since the patents have expired on the movement.

Click here to download the Sellita SW200-1 technical sheet and oil chart.

ETA 2824-2
No Name on Rotor
| | | |
| --- | --- | --- |
| | 11 1/2 ligne, 25 jewels, Incabloc Novodiac shock protection, automatic, sweep seconds, date at 3 o'clock. Hand sizes are 90/150/25, 28,800 BPH | |
ETA 6497-1 Watch Movement
ETA, the main watch movement maker in Switzerland, is the owner of the Unitas name and made the Unitas 6497 and 6498 for years. This is the new re-designed ETA stamped 6497-1, version. This 16.5 ligne pocket watch movement, 17 jewels and Incabloc Novodiac shock protection is a workhorse movement and is sure to be produced for many decades to come. ETA 6497-1 is a Pocket Watch Movement, which means the crown is at 12 and the subsidiary (small) seconds at 6 o'clock. This same movement can now be found in large wrist watches and when used as a wristwatch the crown is now at the 3 PM position and the small second can now be found at 9 PM.




Because of its size, this is a comfortable movement for the beginning watchmaker. Hand hole sizes 1.15 mm minute, 2.00 hour and 0.27 mm will work for second.
ETA 6498-1 Watch Movement, Plain Finish Plates With Novodiac Springs
| | | |
| --- | --- | --- |
| | These movements are now stamped ETA 6498-1. ETA owns the Unitas name and have made the Unitas movements now for almost 30 years. This is a 16.5 (36.5mm) ligne pocket watch movement that is now being sold as a wrist watch movement and has 17 jewels with Novodiac shock protection. If the crown is at 3 the subsidiary seconds will be at 6 o'clock. Hand sizes are 115/200/27, the lift angle of the balance is 44, 18,000 beats per hour. Because of its size, this is a comfortable movement for the beginning watchmaker. | |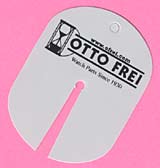 Bergeon 6938 Dial Protection
| | | |
| --- | --- | --- |
| | For those who don't want to scratch and damage their dials while removing hands, this Bergeon dial protector is the tool to use. It's made of resistant synthetic material. Thickness of 0.15 mm. Color is off white. | |
BERG-6938
$1.50



Link To TZ Watch School Parts Page
Miscellaneous Watch Parts