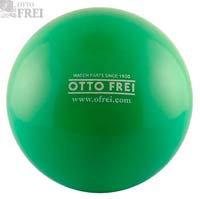 Green ScrewBall Case Opener
You might never use another screw back case opener after you try one of these special balls to open screw back cases! Just hold the watch on one hand and the ScrewBall in the other hand. Press the ScrewBall against case back and start screwing the back off. It really is that simple and does work very well. Everyone who opens screw back cases should have one of these ScrewBalls.


When using the ScrewBall case opener you no-longer have to buy a case vise, which also saves you even more money!
LG Hand Wrench for Screw-Case Backs
 
Among the hand-held wrenches, this is probably the best. Supplied with four different sets of bits, this triple-bit wrench is American made and of high quality. Like all hand wrenches, the LG should be used with one of our case holders. This stabilizes the watch and reduces the liklihood of slipping. Another advantage of the LG Wrench is that it is designed so it can be used with the LG Openall CO-650 shown below. When used with the CO-650 it is almost impossible to slip and scratch the case back.

Comes with four sets of three bits and replacement bits are available if you ever need them. Will open to about 36-38 mm distance between post.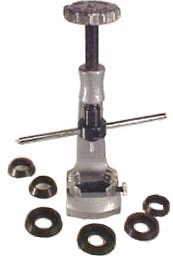 LG Openall Case Opener
| | | |
| --- | --- | --- |
| | As shown with the above rings the LG Openall will open case backs of Rolex watches. However the Openall is best used in combination with the LG Master Case Wrench FB-209. These two products were design to work together to open very tight cases without slipping, which can cause damage to the case back. | |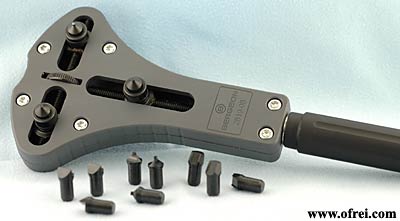 Bergeon 2819-08 New Jaxa Original
New Jaxa key is specifically designed to open case backs of large watches. The ergonomic shape provide a firm and comfortable grip.

Swiss-made, the new Jaxa wrench is the latest first-rate Bergeon product and is a great tool. It sits on a foam like sponge base inside a plastic display box.

Equipped with four different chucks: 3 for polygonal cases, 3 for slotted cases, 3 for cases with holes, and 3 for cases grooved. Will open diameters from 18 mm to 62 mm.
Clamps "A" for Jaxa Hand Wrench 2819/4
| | | |
| --- | --- | --- |
| | For Polygonal cases. Sold in 3 pieces. | |
Clamps "B" for Jaxa Hand Wrench 2819/4
| | | |
| --- | --- | --- |
| | For cases with slots. Sold in 3 pieces. | |
Clamps "C" for Jaxa Hand Wrench 2819/4
| | | |
| --- | --- | --- |
| | For cases with holes. Sold in 3 pieces. | |
Clamps "D" for Jaxa Hand Wrench 2819/4
| | | |
| --- | --- | --- |
| | For oyster cases. Sold in 3 pieces. | |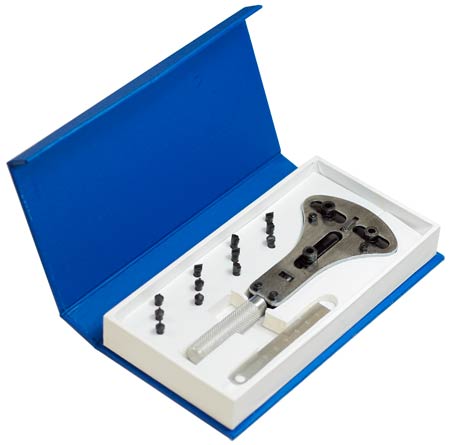 New Economy Case Wrench for Small & Large Watches
| | | |
| --- | --- | --- |
| | New economy case wrench designed to open large watch case backs from 19mm to 60mm in diameter. Equipped with four sets of three bits to open a variety of different case backs. Made with heavy duty steel that feels sturdy and durable. It sits on a foam like protective base inside a blue and white modern storage box. Made in India. | |
Economy Case Wrench, in Box
| | | |
| --- | --- | --- |
| | The ban is over! The economy case wrench can now be purchase right here in the Tool Shop. On a scale of 1 to 10, Walt won't even rate this tool. It does not compare to the LG-Wrench made in USA, or the Bergeon Swiss Jaxa. The economy case wrench is made in India, and is great for beginners to try on old beat-up Watches. Opens cases up to 38.5 mm in diameter. | |
Economy Case Wrench, without Box.
| | | |
| --- | --- | --- |
| | The ban is over! Please see above product description, for beginners to try on old beat-up Watches. | |
Jaxa Swiss-Made Case Holder (Small)
| | | |
| --- | --- | --- |
|   | This excellent quality 4-pin, Swiss-made, Jaxa case holder (and similar models below) is indispensable for holding a watch while opening the back with a hand wrench. It is also useful for holding the watch on the bench while working on the cased movement. This unit, like all our case holders, will not mar the case. Bergeon lists that this holder has a maximum capacity of 35 MM, but we have been able to fit our 41 mm case onto the holder. We have also tested cases up to 44 mm in diameter. |   |
JaxaSwiss-Made Case Holder (Large)
| | | |
| --- | --- | --- |
|   | The extra-large holder may be necessary for very large, water-reistant or "divers-type" watches. This holder will hold from 18 mm diameter all the way up to 66 mm in diameter. Otherwise is is like the Jaxa above. |   |
Inexpensive Swiss-Made Case Holder
| | | |
| --- | --- | --- |
|   | This low-cost Bergeon adjustable case holder uses spring-loaded plastic jaws. The unit fits in your bench vise, to help with opening cases. |   |
Bergeon Case Holder
| | | |
| --- | --- | --- |
|   | This versatile case holder may be used to hold a case while removing the back, may be placed in your bench vise, or may be used on the bench top to hold a cased watch while working on it. The body is in steel, the chucks in red plastic. Because each of the chucks is adjusted with its own knob, it is always possible to get a firm grip on anything, of any shape. It will hold cases up to 43 mm in diameter. |   |
Case Holder for Women's Watches
| | | |
| --- | --- | --- |
|   | This Swiss-made case holder is for watches with lug spreads of 9 to 14 mm. |   |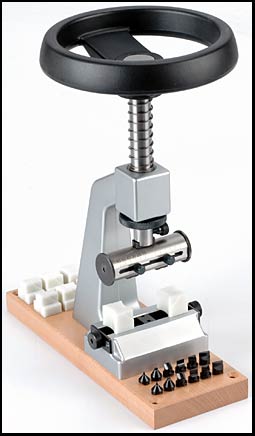 $786.50
Bergeon 5700-Z Case Opener
| | | |
| --- | --- | --- |
|   | The Bergeon 5700 is one of the finest watch case openers made. Supplied with four pairs of non-marring case holding plugs (for 13 to 22 millimeter lug spread), 6 sets of bits, and a bit holder that opens up to a maximum diameter of 60 MM. This opener will open most waterproof cases with no additional accessories. There are, however, a variety of optional accessories to open most other watches, including suction openers (FB-222 and FB-223) for cases that the supplied bits do not fit, and Rolex watches (FB-231 and FB-230). I recommend the lower rubber cup set (FB-223) for best protection of the watch with all kinds of bits and other upper devices. The 5700 holds the watch case very firmly in a level position, much reducing chance of slippage and scratching. Alignment and control is perfect. If you want a very well-made, versatile, professional-quality case opener, this is the one to get. A single gouged back on an expensive watch will cost you more than the price of this wrench. |   |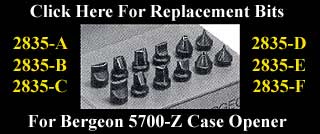 Replacement Bits For Bergeon 5700-Z Case Opener
Bits available for slotted cases, polygonal cases, cases with holes, grooved cases, and for aquastar cases.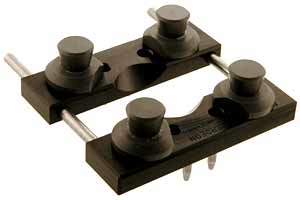 Bergeon Case Vice, Works With 5700 Opener
| | | |
| --- | --- | --- |
| | Vice for watches of any shape. Can be fitted on the bracket-type wrench 5700-Z. | |
Rolex® Bits for 5700-Z Case Opener
| | | |
| --- | --- | --- |
|   | This kit supplies an adapter (FB-231, also available separately) and six milled rings to fit all Rolex production backs. The rings will leave no visible marring on the back. Bergeon 5538 adapter set with 6 ring bits (chucks) with grooves and 1 Bergeon 5538T bit adapter to turn you 5700Z opener into a opener that can open Rolex® watches with ease. Refills available, Bergeon 5523-R0 bit/chuck diameter 18.5 mm, Bergeon 5523-R1 bit/chuck diameter 20.20 mm, Bergeon 5523-R2 bit/chuck diameter 22.50 mm, Bergeon 5523-R3 bit/chuck diameter 26.50 mm, Bergeon 5523-R4 bit/chuck diameter 28.30 mm, Bergeon 5523-R5 bit/chuck diameter 29.50 mm and adapater number 5538T |   |
Rolex Bit Adpater for 5700-Z Case Opener
| | | |
| --- | --- | --- |
|   | This is the Rolex adapter (only, and included in the FB-230) for the 5700-Z wrench. |   |
Suction Adapters for 5700-Z Case Opener
| | | |
| --- | --- | --- |
|   | This set of six upper suction cups for the 5700-Z case opener will allow the removal of many screw-backs without the use of metal bits. This is an advantage when bits are not available for the particular case or with soft metals (like gold), where bits usually leave some visible marking on tight backs. These suction openers should be used with the lower rubber cups (FB-223) for best protection of the watch. For maximum opening power, the upper cup should be wiped with rubber cleaner (like that used for tape recorder pinch rollers or typewriter platens) and the watch back cleaned with alcohol. Used in this manner these suction openers are surprisingly effective on even very tight screw-backs. |   |
Rubber Bottom Cups for 5700-Z Case Opener
| | | |
| --- | --- | --- |
|   | These three rubber, pin-aligned fittings accomodate virtually all wristwatches and smaller pocket watches and provide a stable, non-marring surface to hold the watch in the case opener. Without these cups, be sure to lay a polyethylene bag under the watch to avoid marring. When using the wrench, place the watch face down on the lower cup, lower the bits (or suction opener) onto the back, and allow the bits to level the watch in the lower cup. Then tighten the case clamps. This assures absolute parallelism of watch case and bits. |   |
$749.95
Bergeon 5700-RO Rolex Case Opener
| | | |
| --- | --- | --- |
|   | For those who never want to open anything but a Rolex back, this is the opener. This opener is supplied with adapter and six milled rings fitting all Rolex production backs (supplied separately for the 5700-Z as FB-230 and FB-231). You can purchase the regular 5700-Z attachments for use with the RO to allow opening of regular backs. |   |
Case Clamps for 5700-Z for Special Cases (5700-RU)
| | | |
| --- | --- | --- |
| | This set of special case clamps (5700-RU) allows use of the 5700-Z case opener for watches with unusual cases, including those with hooded lugs. | |
Bergeon Hand Wrench for Rolex Watches
| | | |
| --- | --- | --- |
|   | This Bergeon hand wrench is made to open all current and past Rolex backs. Supplied with a handle and six milled rings, it is a well-finished tool. Like all hand wrenches, this one should be used with one of our case holders, shown above. For a more stable, professional approach to Rolex backs, see the FB-225. |   |
New Swiss Officers Case Knife
| | | |
| --- | --- | --- |
| | This is the real thing, much thicker than the regular standard Swiss Army Watch Case Opener shown above. Everything about this knife is bigger and better, and it comes with tweezers and toothpick. This is now the snap back case knife to get. | |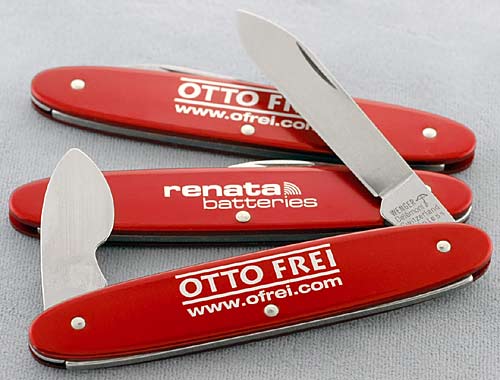 Red Swiss Army Style Knife With Watch Case Opener Safety Blade w/Renata and Otto Frei's Logo
Red color case opener with Otto Frei printed on it. This is the standard Swiss case Knife. Renata Battery Company is the Swiss Power Source for watch batteries. Renata is part of the Swatch Group.

The short blade, kept properly shaped and polished, is probably the most useful snap-back opener around. Every watchmaker needs one of these of within arms reach, somewhere on the bench. The second blade is a larger, general purpose pocket-knife blade that is "Swiss Army Knife Sharp" that comes in handy as well.
Seiko Snap-Back Case Opener
| | | |
| --- | --- | --- |
|   | This Japanese copy of a very expensive German unit is just as good and is the finest available tool for opening snap-back cases with precision and complete control. The watch is mounted between the fully-adjustable pins and can be perfectly aligned with the blade by moving the base and locking it in position. The blade (mounted on a finely-screwed shaft) is then slowly fed between the case and back. This is a remarkable device that will pay for itself with one unscratched case back. I almost never open a snap-back case any other way these days. An extra bit is supplied and is mounted in the pin base. If you want to make the unit even better, give the bit a high polish on your buffing wheel. |   |
Bergeon Case Opening Lever
| | | |
| --- | --- | --- |
|   | This lever with a rounded back is useful for certain snap-back cases. The rounded back provides the leverage. |   |
Horotec Waterproof Case Opener
| | | |
| --- | --- | --- |
| | Much smaller then the Bergeon opener, only 7" tall. Supplied with removeable case holder that will side out once you have open the case, for use as a movement holder. Also supplied with 4 pairs of pins for opening cases with round holes, flat edges, square holes and milled or fluted edges. The Horotec, or the Bergeon set of milled rings for opening Rolex cases can be used with this tool. | |
Suction Opener for Screw-Back Cases
| | | |
| --- | --- | --- |
|   | This suction opener won't open most tightened screw-back cases, but it works every now and then. It is mostly useful for unscrewing backs that have been loosened with a wrench and for reinstalling backs prior to snugging them down with a wrench. It's handy, and every watchmaker should have one. |   |
Replacement Pin for the FB-200 Jaxa Case Holder
| | | |
| --- | --- | --- |
|   | This replacment pin fits the small Jaxa case holder in case one of your originals ends up in The Triangle. Pins for the FB-202 and the FB-232 are also available. |   |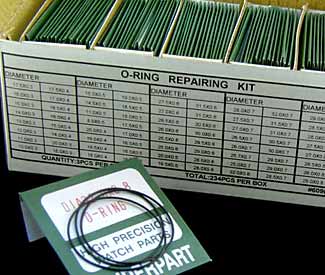 O-Ring Repairing Kit
| | | |
| --- | --- | --- |
|   | Total of 234 Pieces per box. 3 Pieces each size. |   |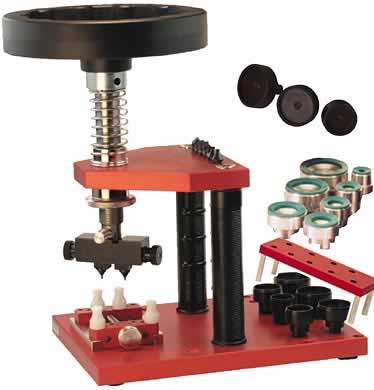 Horotec Complete Case Opening Outfit
| | | |
| --- | --- | --- |
| | The best of all? Larger than the Bergeon 5700Z, this unit is ready to open almost anything. Complete with 4 pairs of pins, dies to open both Rolex and Baume & Mercier watches, along with seven suction opening dies. | |
Bergeon 4932 Snap-Back Case Knife
| | | |
| --- | --- | --- |
|   | This Bergeon case knife is the classic--it's as simple as that. As with any case knife, keeping the blade relatively sharp and very smooth, facilitates inserting the blade between case band and back. I polish mine with rouge and an electric buffer to keep it especially slippery. |   |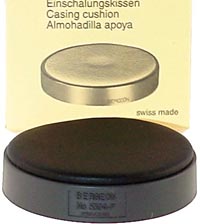 New Bergeon Case Cushion With Plastic Ring
| | | |
| --- | --- | --- |
| | Made by Bergeon under the request of Rolex®, who were concerned that the metal ring of the old cushion could somehow scratch the case. | |
Case Cushion
| | | |
| --- | --- | --- |
|   | This Bergeon case cushion is leather-covered and provides protection for the watch while pressing on snap backs or otherwise putting pressure on the watch case. |   |
Push-Type Opener
| | | |
| --- | --- | --- |
| | An inexpensive tool made by Seiko to open snap back cases. | |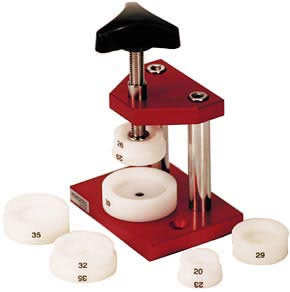 Horotec Screw Type Case Closer
| | | |
| --- | --- | --- |
| | Strong & Safe, Swiss screw-type case closer with nylon dies. | |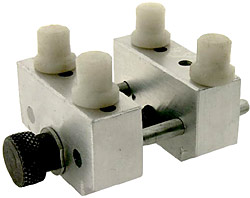 Aluminum Case Hold with 4 Nylon Pins
Place in your bench vise and hold cases secure, while opening waterproof case backs. Very popular case holder found in many shops and if used by the right person is a very good tool for the price. The watch case is held in place by the nylon plugs and does not make contact with the aluminum. This is one of the better watch repair tools made in India.

Everyone needs a wrench, case holder and a shop bench vise to mount the case opener in when opening those hard to open case backs that you just cannot hold the watch in your hands when using a hand wrench. For total safety to minimize the risk of the tool slipping of the case and scratching the case. The watch case should be in a case vise and that case vise should be set in a large shop vise attached to your desk or work bench. Now you have two hands, one holding down the wrench on the watch and the other pushing the wrench and putting some body weight into the push as well. The screwball openers work very well and everyone need the safe rubber screwball openers, however once in a while you will need a wrench on a case back when the gasket, dirt and oil has formed a glue like seal that requires a wrench to break this seal. The CWR175.00 case holder, can open up to handle cases up to 50.40 mm in diameter.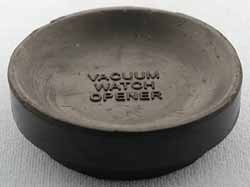 Rubber Grip Pocket Watch Case Back & Bezel Remover
| | | |
| --- | --- | --- |
| | This is the tool that you use to open and close screw back cases and bezels on pocket watches. Use either side fits pocket watches sizes O to 18. This is a must have tool, that everybody opening pocket watches really needs. | |