TimeZone.com | TZTool Shop Home | Shop On-Line
Order Form | About Tool Shop | Contact Us
Watchmaker's Benches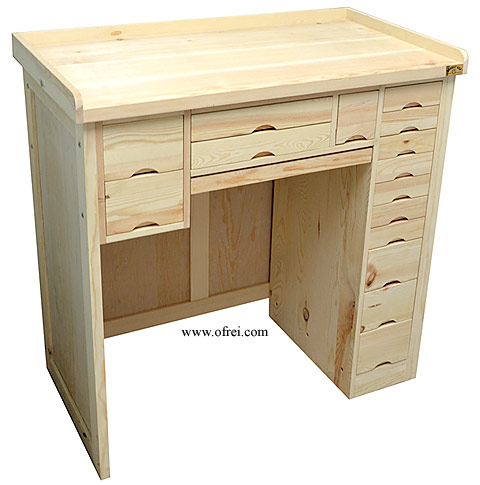 New Classic Watchmakers Bench, Stocked here in our Oakland Warehouse
A nice quality bench at a great price. Bench features include: Solid wood top, railings, sides and faces. Full length side and back panels. 15 drawers. 19" watchmakers catch tray.

This bench is dropped shipped from our Warehouse direct to your home or office. We can now ship this bench by UPS or FedEx Ground shipping. Due to this item being an oversized item, you will be sent an E-mail notifying you the amount of shipping cost you will be charged. Shipped in two boxes. Dimensional shipping weight is 199 lbs. Box 1 Dimensions are 39 1/2" x 20 1/2" x 22". Box 2 Dimensions are 42" x 8 1/2" x 24"

The cost of shipping to a residential address in the 48 states is between $110.00 to $235.00, while the average price has been about $130.00.

Some assembly is required. When fully assembled, bench dimension measures 39-1/4" Wide x 21-1/2" Deep x 39" High.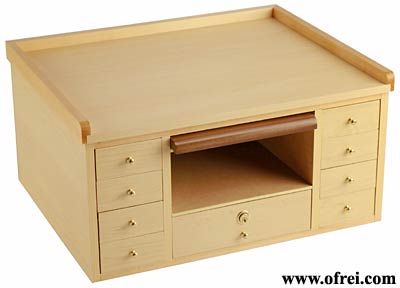 Tabletop Mini Watchmakers Bench DBP220-1
These mini-scale versions of the watchmakers workbench are compact and portable to fit in small spaces. 9 storage drawers, center drawer is lockable. Railing prevents items from falling off the back or sides. A center pull-out shelf. Size 20" Wide x 16" Deep x 10" High (51 x 41 x 25 cm). Shipping weight of item is 35 pounds. Due to the weight and size of the item, we recommend that our domestic customers choose Ground shipping to save on shipping cost.

For International customers: Due to the weight and fragileness of the bench when shipping, we are no longer able to export this bench outside of the USA.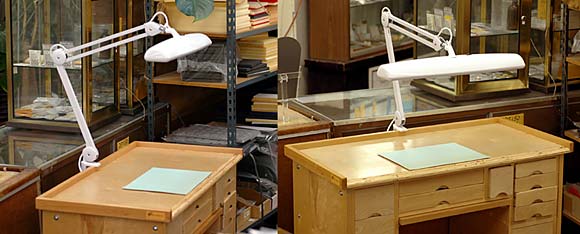 High Power Energy Efficient Fluorescent Desk Lamp
Every Watchmaker's work bench should have one of this lamp. It gives more than enough light to cover your benches surface.

It uses three T5 14W fluorescent light bulbs, comes with electronic ballast and On/Off switch. The dimension of the piece are 91cm (35.8 inches) arm length, 61cm (24 inches) head length, and 11cm (4.3 inches) head width. The color is white and uses 110V/60Hz voltage.
Type in any keywords of a description or a name below to find a product.
If you have questions please call me at 510 599 4890. For those outside the USA the country code is 1.
Thanks, Bob Frei
Contact Us

Security/Privacy/Return Policy

United States
510.832.0355 EXT. 2
800.900.3734 (fax)

International
510.832.0355 EXT. 2
510.834.6217 (fax)